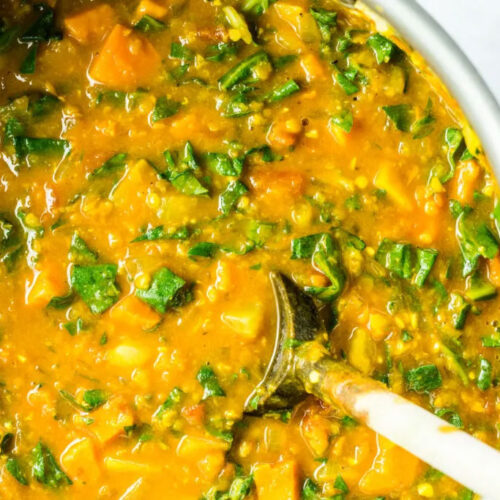 Dal-Vegetable Stew a.k.a. Dhan-Saak
I love this warm, healthy, and hearty recipe created by Registered Dietitian Madhu Gadia in her wonderful vegan cookbook The Indian Vegan Kitchen
Ingredients
1/3

cup

toor dal

split, hulled

1/3

cup

mung dal

split, hulled

1/3

cup

cup pink (red) lentils

3

cups

water

1

tsp

turmeric

1 1/2

tsp

salt

2

cups

butternut squash

peeled and cut into 1 inch cubes

1

cup

eggplant

cut into 1 inch cubes
Paste
1

tbsp

garlic

coarsely chopped

1

tbsp

ginger

peeled and coarsely chopped

1

cup

tomatoes

coarsely chopped

1

tsp

cumin seeds

1

tsp

garam masala

1

tsp

ground coriander

1/2-1

tsp

cayenne pepper

1/2

tsp

fenugreek seeds

1/2

tsp

fennel seeds

1/4

cup

cilantro

chopped

2

tbsp

mint leaves

chopped

1

tsp

tamarind paste

1/4

cup

water

3

tbsp

oil of choice

1

cup

onion

finely chopped
Instructions
Combine toor dal, mung dal, and lentils, wash thoroughly, and then soak for two hours or longer.  

Prepare paste while dal is soaking.  In a blender, combine garlic, ginger, tomatoes, cumin seeds, garam masala, coriander, cayenne pepper, fenugreek seeds, fennel seeds, cilantro, mint leaves, tamarind paste, and water.  Grind to a smooth paste.  Set aside.

After dals have soaked for two hours or longer, drain off the water.  Combine dals, 4 cups of water, salt, turmeric, squash, and eggplant.  Bring to a boil, reduce heat, and simmer for 25-30 minutes, until the dals and vegetables are very soft.  Stir to smooth consistency.  

In a large fry pan, heat oil on medium-high heat.  Add onion and saute until golden brown.  Add the paste mixture that you set aside and stir.  Add dals and vegetables and stir to coat everything and mix the spices.  Add 1/2 cup of water or more to desired consistency.  Mixture should appear thick like stew.  Bring to a boil and then reduce heat to low, cover and simmer for 10 minutes to allow the flavors to meld.  

Serve over a bed of hot rice.